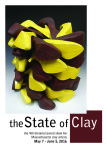 Anni Melançon has been selected to exhibit in The State of Clay 2016 hosted by The Ceramics Guild of the Lexington Arts & Crafts Society (LACS)
130 Waltham Street, Lexington MA
May 7 thru June 5
75 works of ceramic art will be on display in the Parsons Gallery
Artist Reception Friday, May 20, 6 – 9 PM, gallery talk with Wayne Higby 7:30 PM
Gallery Hours: Sun & Tues thru Fri 12 – 4, Sat 10 – 4 (closed Mondays)
WHITE LINE BLACK VASE
Growing up I spent part of every day in the woods and fields and brook which surrounded our house, and when I was older explored on foot or horseback the trails and paths around town. There is nothing which inspires me more, or makes me happier, than being in nature.
I still love the woods, but for the past 38 years I've lived and worked in Gloucester, more precisely, Lanesville, in north Gloucester, and now enjoy the edges of the sea as well. Cape Ann, the "Other Cape" is more about rock, primarily granite, than sand.
Granite quarries, both working and water-filled, dot the northern lands of our Cape, ranging in size from the largest named pits: Bloodledge, Bay State, Big Parker, Klondike, to the very smallest test pits, called motions. For over 20 years I worked in a studio on Bloodledge Quarry, where my view from my wheel looked across the pit to the tall rock-face on the far side. The stones from the quarries are cut and the grain of the granite is revealed, both in the quarry walls and in the cut blocks. I often used the image and feeling of these kinds of rocks in dinnerware and sculptural pots.
On some of the beaches here, instead of sand or ledge, the shore is covered with pobbles. They are extraordinarily beautiful rounded stones of mostly granite, which are rounded by years of tumbling by the sea.   The smallest ones are pebbles, but the large ones are called pobbles, up to 10-12 inches in diameter. Most people I know have a little collection of them somewhere, in baskets or in the garden, multicolored, or sorted by color.
My favorite ones are the Lucky Rocks. They have a stripe, created by layering of different mother rock, which is revealed completely around the stone, and if you find one, you will have good luck. Two years ago I started working a series of round pots inspired by Lucky Rock pobbles. Sometimes while working the form I create a line in the clay skin of the pots, sometimes glazing the piece in some way to create a stripe; sometimes both.
This thrown stoneware vase was first glazed with a stripe of a satin white glaze, which I carefully waxed over, then glazed with an Albany slip glaze, and fired to cone 10-11 in my gas kiln.