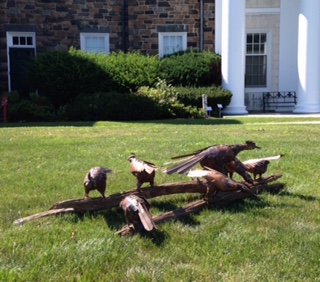 The seventh annual Flying Horse Outdoor Sculpture Exhibit, including work by Cape Ann Artisan Bart Stuyf, is now open to the public and showing through October 30th on the 100-acre campus of the Pingree School, 537 Highland Street, South Hamilton, MA. The exhibit is one of the largest outdoor sculpture shows in New England and includes the work of artists whose work is in museums, galleries, and collections throughout the country.
An opening reception with the artists will be on Sunday, September 11 at 1:00 p.m. in the school's library. The public is invited.
The free app is now available – it's very cool. Just go to the app store on your SmartPhone, search "Pingree Sculpture Show" and download. A map of campus will pop up with "teardrops" showing the location of all sculptures. Click on the teardrops and you get the name of the work and the words "Explore more". Click on "Explore more" and you get a photo of the work, the full bio/artist statement, price and contact info.
Click here for more info: Flying Horse Outdoor Sculpture Exhibit