Free and Self-guided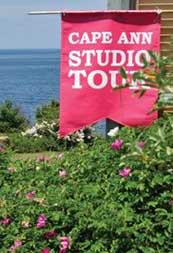 The tour is free and self-guided. Professionally printed brochures containing the studio descriptions and the tour map are available at all studios, the Cape Ann Chamber of Commerce, the Rockport Information Booth on Rte 127, and many other public venues; meanwhile, at home you can download and print the PDF to plan your trip. Print it out, mark it up, or just keep it on your portable device (smartphone, tablet,…) for travel.  As you approach each artisan studio on the road a bright, magenta Studio Tour banner will mark the studio location.
Printing Tips
When printing the PDF, verify that you select the option to fit the document to the printed page, typically called "Fit to page" or "Scale to fit". Select paper size "US Letter" (8.5 by 11 inches). Optionally, select the pages you want to print, for example, pages 2 to 5 to skip the cover page.
Map
The map is included in the brochure, but click on the map below to view a large version now:
Sponsors
We would like to thank our partnering businesses for their sponsorship of Cape Ann Artisans; please visit and support them on your tour around Cape Ann.