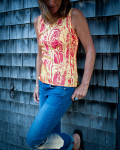 My studio by the cove is vibrant with colors and new projects. It has been a very productive season. I have printed a full collection of silkscreened tea towels and t-shirts and expanded my collection of rayon seaweed printed clothing. I am bringing this work with me every other week to the Cape Ann Farmer's market through the Fall.
I am also deep at work on a truly gratifying project for the seARTS Celebrate Wearable Art show this Fall, in Gloucester. This project spans several years of work and is a rare opportunity for me to create intricate hand made wearable pieces. On September 27th, I will send four looks down the runway, "The Four Seasons", each hand dyed, printed, embroidered, knit, crocheted, appliquéd and beaded. I have collaborated with four local jewelers, Beth Williams, Jacqueline Ganim de Falco, Susan Kenna and Bonnie Bischoff to complete the looks.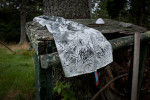 I am also completing a line of hand made dyed and printed linen skirts. These pieces are a joy to be working on and I am excited to be showing them on the runway and in my studio at the upcoming Fall Cape Ann Studio tour.
Click here for more about Camilla MacFadyen