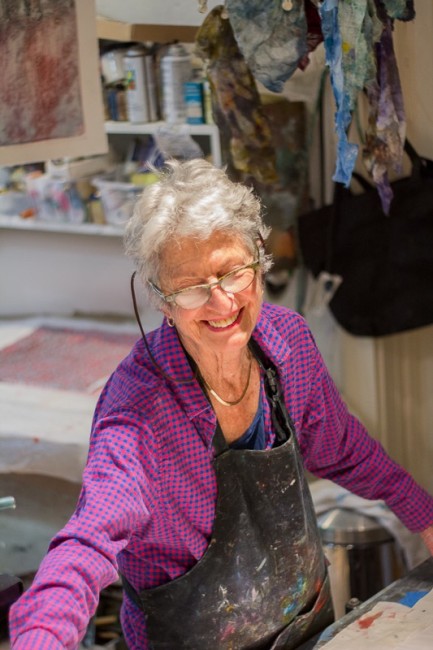 When I walk in my studio fragrances of oil paints and my big paint covered pallets sooth me, streams of light, crowded cans of inks, tools, brushes and my monster press welcome me. I slide the door and enter nirvana! Here is a place of focus, patience, surprises.  Here I have continued to explore the imprints of textures and color in my collagraphs, monoprints and oil paintings on canvas. Each work distills mood, and places, times of day and with clothes, times of life.
I start each print  with a collage glued on a Masonite board. This is called my plate. Sometimes taking a month or a year to complete but then it is painted playfully or intensely according to my whim or intent. Recently I took out an ancient oceanscape plate and layered paints with oil paints on brayers over the initial inking until nuances of green emerged, which was what I saw at the beach on a recent stormy day. After playing with colors and trial proofs through the press, sometimes a realized vision emerges.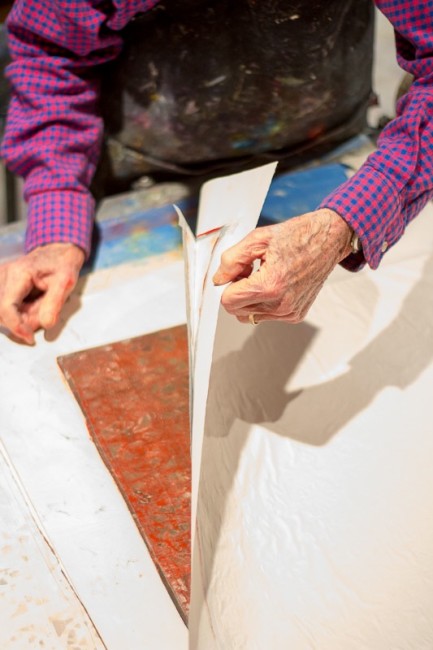 Also on display are rare watercolors and oil paintings of my late husband and gallery partner, Mace Wenniger. In folders I also have for sale some great prints deaccessioned from the former Wenniger Galleries in Rockport and Boston.  And there will be an open house at my home at 70 Holly Street Gloucester celebrating Mace's works  in a show entitled "Treasures" on Friday , May 20 from 5:00 to 7:00.
This year I have enjoyed teaching collagraph printmaking to others in weekend workshops for eight people held in my studio. These went well! A student writes:
"Mary Ann is a fine artist and a great teacher. Professional, informative, interesting and fun, she was able to impart her great knowledge in a very warm and welcoming way. Perhaps, as importantly, she worked well with people who had different levels of skill and was able to be supportive"
During the summer I will offer kids printmaking  classes at the Hive in downtown Gloucester.
Click here for more about Mary Ann Wenniger