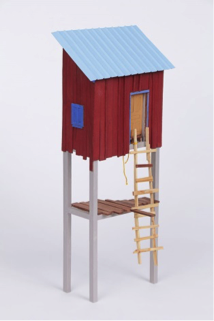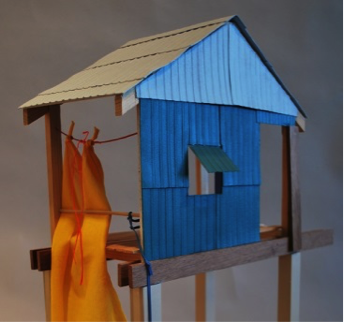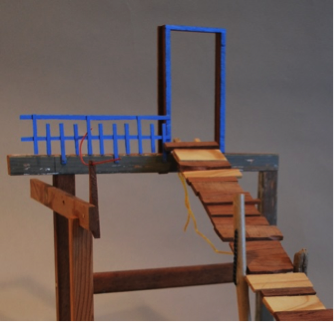 "Shelter / Displacement Series", 2016, Medium: wood, paper, fiber, Dimensions: to 24"h
Margaret Rack has been working with metals in a very linear way for more than a decade. Using wire, she has been "drawing". These pieces have tended to combine two and three dimensional aspects, wall works as well as sculpture to walk around. New works have a light delicate quality to them, with layers of twined wire and fine gauge crocheted copper elements. Rack loves quality of line, and some work is very calligraphic; other series are curtain-like. Though the work reads as abstract, inspirations come from nature and the human condition. A 2010 Fulbright Hays trip to study in Cambodia deeply influenced her ideas for sculpture, in particular a twelve hour leisurely boat ride heading south down the Tonle Sap River passing floating villages between Siem Reap and Battambang. Fragility, strength, provisional construction, playfulness, resourcefulness and resilience took on new meaning and contexts. Rack returned to Cambodia in 2015 and 2016, and continues to explore these themes in her work.
Rack came to making art in childhood and by age twelve she began taking classes in a local artist's studio. In college and art school she focused on painting until she encountered welding. Metal gave her the most freedom to run with her ideas, and she became a successful studio artist primarily as a sculptor.