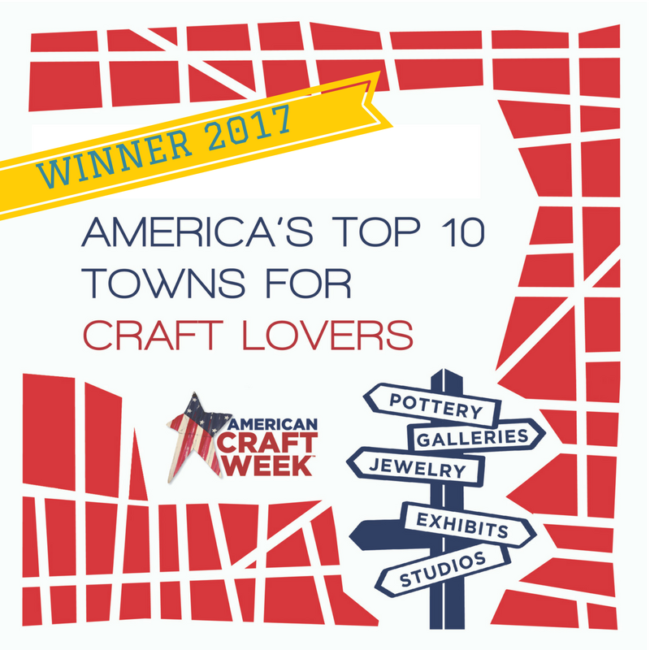 American Craft Week Oct 6 – 15, 2017
For Immediate Release
For further information,
Diane Sulg, ACW Co-chair
704-907-0746, dianesulg@aol.com
SEAGROVE, N.C. CAPTURES TITLE OF TOP U.S. TOWN FOR CRAFT LOVERS
Charlotte, N.C….April 19, 2017…. For the past month, craft lovers have been logging on to the American Craft Week website to choose their favorite place to enjoy a vibrant craft scene. With more than 17,000 votes tallied, the contest closed Sunday, April 16 at midnight. The top vote getter in the nationwide poll turned out to be Seagrove, N.C. The small town (population 228) is considered the "Handmade Pottery Capital of the United States." Seagrove garnered just over 33% of all the votes cast.
"Congratulations to Seagrove, said American Craft Week co-chair, Diane Sulg. "The potters there did a tremendous job publicizing the contest and urging folks to vote for them. Even more impressive, the town was not on the initial ballot, but after an early number of write-in votes, they were added to the ballot and their tally just kept growing."
In all, ten U.S. places were named as the Top Ten Towns for Craft Lovers. Here is the complete list of winners:
1. Seagrove, North Carolina
2. Gatlinburg, Tennessee
3. Berea, Kentucky
4. Cumberland Valley, Pennsylvania
5. Asheville, North Carolina
6. Brattleboro, Vermont
7. Blue Ridge, Georgia
8. Bedford, Virginia
9. Door County, Wisconsin
10. Gloucester, Massachusetts
"We congratulate all the winners and hope they use their designation to attract more visitors. Cultural tourism is on the rise across the country as people seek out interesting, creative destinations," said Sulg.
ABOUT AMERICAN CRAFT WEEK
The eighth annual American Craft Week will be held Oct. 6-15 in cities and towns across the nation. With thousands of diverse events at galleries, artist studios, museums, schools and festivals, it is the premiere public celebration of handmade craft in America. It is a volunteer managed program of CRAFT (Craft Retailers and Artists for Tomorrow) a trade association dedicated to the growth and vitality of the craft industry. For more information, visit Americancraftweek.com and craftonline.org.
###