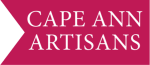 Inquiries: jackie@capeanndesigns.com
978-283-8333 or info@capeannartisans.com
Cape Ann Artisans Announce Details for 35th Anniversary Open Studios
The Cape Ann Artisans have set the schedule for 2018. The Spring Tour will be held Saturday and Sunday, June 2-3.   The Fall Tour will encompass the entire three day Columbus Day Weekend, Oct 6-8, which falls during American Craft Week (Oct 6-15), a national celebration. The tour time is 10AM-5PM. The Holiday Show will return during Rockport's Main Street festivities in early December alongside Shop Rockport night.
Among the new developments for 2018, the Artisans are in discussion with a local tour operator to put a real "tour" option in place.   This would provide a convenient alternative to those that would like to hop on a mini-bus vs. drive their own vehicles. Stay tuned for details.
Also exciting is the expansion of the "Cape Ann Artisans in the Community" event throughout the year.   If you have a regular meeting where your organization would appreciate exposure to this group, the Artisans will create an on-site display and mini-presentation to provide some insight as to role in the community, education, and quality of life that is enhanced by the presence of working artists. Meet the artists, hear about the CAA history and help share the story with your community.  To request a visit by the artisans, please send a note to Jackie via info@CapeAnnArtisans.com.
The Artisans thank the community for its continued support of its partner program that includes sponsorships on the brochure and online. Annually, the Artisans print and distribute over 12,000 brochures which are distributed throughout the region. The annual printed brochure with the Cape Ann map outlining the tour, will be finalized in early February and a few places are still available for local businesses. Those interested should contact Sinikka Nogelo [snogelo@yahoo.com] before January 31 to secure one of the limited spaces. Online-only sponsorships are accepted on a rolling basis.
The Tour will include 20 studios and 23 Artisans, with several working as husband and wife teams and Ruth Worrall teaming up with Bart Stuyf at his studio. The Artisans newest member is Andy Matlow, who creates sculptural and functional ceramics and Judith Wright returns from sabbatical. The 2018 Artisans are:
1. David Archibald
2. Cynthia Curtis
3. Rob Diebboll
4. Jacqueline Ganim-DeFalco
5. Deborah Gonet
6. Elizabeth Harty
7. Camilla MacFadyen
8. Andy Matlow
9. Anni Melançon
10. Sinikka Nogelo
11. Bond Street Studio: Terry DelPercio-Piemonte & David Piemonte
12. Marcie Rae
13. Margaret Rack
14. Mi Robertson
15. Pam Stratton
16. Bart Stuyf
17. Twin Lights Studio: Erin O'Sullivan and Scott Place
18. Beth Williams
19. Ruth Worrall*
20. Judith Wright
21. Sara Wright
Here's a re-cap:
What: The Cape Ann Artisans open studio, self-guided tour of 20 studios
Where: Gloucester and Rockport, MA.
When: June 2-3 and October 6-8. All Days: 10-5
Holiday Show: December 1-2, Rockport