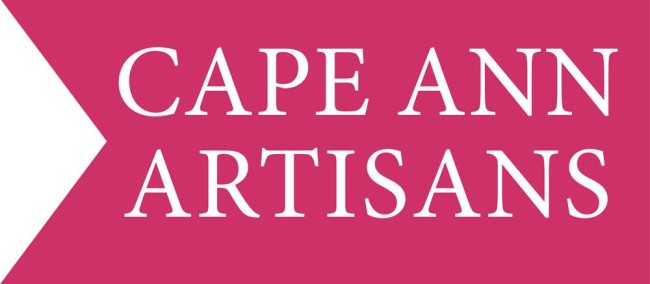 Media Advisory: April 4, 2016
Inquiries: jackie@capeanndesigns.com 978-283-8333 or info@capeannartisans.com
Grab your cameras, maps, bikes, and picnic baskets – and get ready for the 33rd Annual Spring Cape Ann Artisans Tour!
Early risers beware! At dawn on May 21st an important tradition (literally) unfolds. Magically, dozens of fuchsia colored banners and hand-made signs pop up all over Gloucester and Rockport directing you into corners of Cape Ann that you didn't even know existed! Indeed, it's one of the most fun weekends of the year!   A dreamy, self-guided visit to 17 open Artisan studios. The Cape Ann Artisans Tour is a sure sign that spring has arrived – even moreso this year as the tour has been moved back to earlier in May for the first time in many years. It's time to take a serious look at some new artwork and dress up your home and wardrobe for the remainder of the year.
What really happens behind the scenes long before you step inside an "Artisan" Studio? Ask the pied piper of pottery, Cynthia Curtis who has trained 1200 students in pottery-making over 22 years. Cynthia chimes in, "This year I will order about 15,000 lbs. of clay and after thousands of pots are finished, 100% of the excess clay is recycled to make more pots. I hope Cape Ann doesn't sink!" Pam Stratton navigates "About 1500 pounds of Smalti and at least 500 lbs of stone," and Judy Wright "halls in 150 pounds of stained class in large sheets for her mosaics!" Anni Melancon will use about a ton of clay, recycling 100% of her clay scrap.  Jacqueline Ganim-DeFalco carefully empties 30 plus delicatessen pickle jars of sea glass to turn puzzles into jewelry and hair accessories- Beth Williams makes thousands of glowing flame-worked glass beads as the starting point for her art glass jewelry.
Many Artisans have added new dimensions to their work as reported in their recent "From the Studio" blogs.
Judy Wright has embraced two different projects – creating a series of small paintings of local birds and designing birdbaths with glass mosaic design on granite. Camilla MacFadyen has "rediscovered hand embroidery" and has been embellishing her silk organza dresses with flowers, ferns, salamanders and dragonflies. Camilla elaborates in her blog on her colorgraph series called "Look up."   Pam Stratton has been experimenting with Encaustic and cold wax techniques which she plans to integrate into her mosaic work. She describes encaustic painting as "an ancient technique that uses hot beeswax with pigments. The surface can be richly textured or smooth with lustrous depth".
Many artisans view the winter as a time to take classes, teach classes, or just shift their point of view so they can return to their studios in the spring with renewed energy!   Rob Diebboll explored the beaches on the west coast of Florida and reported back "Along the flat, granite-less coastline, the light is different, influenced by latitude, a west-facing beach, warm spring days mixed with stormy, fall-like ones." Jackie found inspiring pottery shards along the Amalfi Coast, Beth kicked off the year in Thailand at a world-renowned bead factory and Cynthia studied with a renowned potter in North Carolina. Each artisan, in their own way, honed their craft and enhanced their perspective.
The Artisans not only make beautiful work, they also collaborate on all the other tasks needed to create and promote the tour. Behind the scenes, Beth Williams directs the brochure design while Sara Wright heads up the distribution of the 12,000 brochures throughout the north shore. Artisans work together on all aspects of the tour – from pooling of money, calling on sponsors, marketing, web design, sign-making, bookkeeping – everyone has a job and decisions are made as a group. In some cases, it's a family affair – with spouses co-creating artwork or just helping hang signs! In short, it's a major production. Friends, neighbors, visitors to Cape Ann are all welcome to drop in!
The Tour will include 17 studios and 18 Artisans, with several artisans out on sabbatical.   The 2016 Artisans are:
David Archibald
Cynthia Curtis
Rob Diebboll
Jacqueline Ganim-DeFalco
Camilla MacFadyen
Anni Melançon
Sinikka Nogelo
Margaret Rack
Mi Robertson
Pam Stratton
Bart Stuyf
Twin Lights Studio
Mary Ann Wenniger
Beth Williams
Ruth Worrall
Judith Wright
Sara Wright
Here's a re-cap:
What: The Cape Ann Artisans open studio, self-guided tour of 17 studios
Cost: Free (but for the great art work you can purchase!)
Where: Gloucester and Rockport, MA.
When:   Saturday & Sunday May 21-22 10AM-5PM