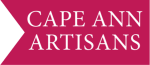 Media Advisory: January 23, 2017
Inquiries: jackie@capeanndesigns.com 978-283-8333 or info@capeannartisans.com
The 34th Annual Cape Ann Artisans Studio Tour Announces New Dates & Returning Artisans
The Cape Ann Artisans have set the schedule for 2017. The Spring Tour will be held Saturday and Sunday, June 3-4.   The Fall Tour will encompass the entire three day Columbus Day Weekend, Oct 7-9. The tour time is 10AM-5PM. The Holiday Show will return during Rockport's Main Street festivities on December 1st and 2nd.
The Artisans welcome back several members that were on sabbatical, Elizabeth Harty, Marcie Rae, and Bond Street Studio.   One new studio will be on the tour, that of Deborah Gonet, a mixed media artist.
The Artisans thank the community for its continued support of its partner program that includes sponsorships on the brochure and online. Annually, the Artisans print and distribute over 12,000 brochures which are distributed throughout the region. A few of these coveted spots remain available. For information, please contact Sinikka Nogelo: snogelo@yahoo.com.
The Artisans have also launched a program called "CAA in the Community" where a small group of artisans will create an on-site display and mini-presentation to inform your group about the tour in more detail. It's a chance to meet the artists and help share the story with your organization and to better inform both residents and visitors. To request a visit by the artisans, please send a note to Jackie via info@CapeAnnArtisans.com.
The Tour will include 20 studios and 22 Artisans. The 2017 Artisans are:
David Archibald
Cynthia Curtis
Rob Diebboll
Jacqueline Ganim-DeFalco
Deborah Gonet
Elizabeth Harty
Camilla MacFadyen
Anni Melançon
Sinikka Nogelo
Bond Street Studio: Terry DelPercio-Piemonte & David Piemonte
Marcie Rae
Margaret Rack
Mi Robertson
Pam Stratton
Bart Stuyf
Twin Lights Studio: Erin O'Sullivan & Scott Place
Mary Ann Wenniger
Beth Williams
Ruth Worrall
Sara Wright
Here's a re-cap:
What: The Cape Ann Artisans open studio, self-guided tour of 20 studios
Where: Gloucester and Rockport, MA.
When:   June 3-4 and October 7-9.   All Days: 10-5
Holiday Show: December 1st & 2nd Rockport