Meet the puppies schedule:

Saturday 10/10, 1:00 – 3:00, at Judith Wright's studio
Sunday 10/11, 1:00 – 3:00, at Cynthia Curtis' studio
Monday 10/12, 1:00 – 3:00, at Beth Williams' studio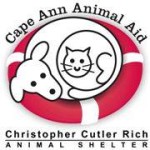 By Cape Ann Animal Aid
We here at Cape Ann Animal Aid work every day to find loving homes for homeless dogs and cats. Our shelter is bright, airy and full of life. There is bustling activity at all times: dogs leaving for walks with volunteers, cats chasing toy mice around the room, and shelter pups and cats enjoying one on one attention from staff and volunteers.
Time and time again, we hear people say that they are hesitant to visit animal shelters because they "don't want to feel sad". In reality, we feel fairly confident that most visitors to our shelter leave feeling moved by the human-animal bond, inspired to help homeless animals, and/or ready to adopt a dog or cat. We strive to make sadness the last thing felt after visiting our facility. However, this hesitation does exist and that's why it's so important for us to find ways to bring adoptable shelter animals out of the facility and into public places where they can meet and greet the public and potential adopters.
These offsite events are called Meet and Greet events. They usually work best with adoptable shelter dogs, and provide a chance for community members to meet and interact with adoptable animals in a low-pressure environment. Several times a month, our dedicated volunteers set up Meet and Greet events at local pet supply stores. We've also set up Meet and Greet events outside restaurants, in retail stores, schools, and at many outdoor festivals and fairs. The outcome is always fantastic!
Visitors get a chance to interact with shelter dogs and learn more about animal adoption. With this positive experience, we believe that these individuals are far more likely to adopt an animal from a shelter in the future and are far less nervous about visiting shelters in general. These Meet in Greet events can be an important stepping stone for many, changing feelings from hesitation to excitement about visiting an animal shelter in the future.
In addition, Meet and Greet events provide shelter animals with new life experiences. From car rides to new sights and smells, these events help to provide rich mental and physical stimulation for the animals, boosting their confidence and developing their life skills. Sometimes, shelter dogs go overlooked by adopters for many weeks. Meet and Greet events give these pups and others a chance to be seen by a different audience. More often than not, adoption matches are made right at the Meet and Greet site! When this happens, the potential adopter comes to our shelter, meets with an adoption counselor and proceeds with our adoption process. After which, we are happy to send them home with their new four-legged family member!
Cape Ann Animal Aid is excited to partner with Cape Ann Artisans, bringing the Meet and Greet experience to a few studios as part of the 2015 Studio Tour.
For more information about Cape Ann Animal Aid, visit us online at www.capeannanimalaid.org.