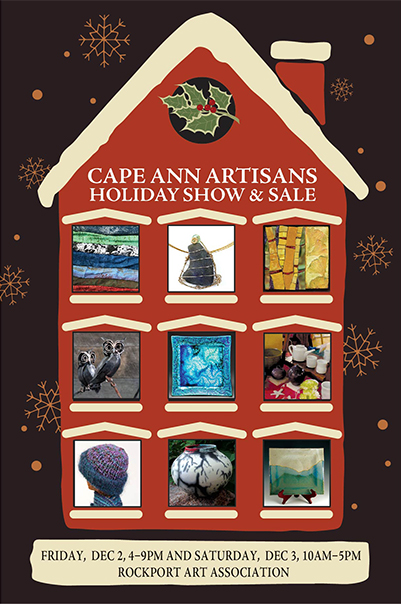 Inquiries: jackie@capeanndesigns.com
978-283-8333 or info@capeannartisans.com
Cape Ann Artisans back under one Roof at the Rockport Art Association
Nine Artists to join Holiday Show including special guest sculptor Chris Williams
November 9, 2016
ROCKPORT, MA. The Cape Ann Artisans (CAA) invite the community to meet them Under One Roof at the Rockport Art Association December 2nd & 3rd for their 3rd annual holiday show timed to coincide with Rockport's own "Shop Rockport" holiday events.   The show will be held alongside the Rockport Art Association's special members' show.
The CAA Holiday event will include eight active Cape Ann Artisans and one returning special guest, Essex based sculptor Chris Williams. Chris who was part of the Cape Ann Artisans ten years ago and looks forward to this CAA reunion, is a Rockport native and turned his childhood fascination with welding into a full portfolio of sculptural objects and installations.
"One day, when working after school in my dad's metal shop in Rockport, I discovered a welder under an old oil covered bench. I dragged it out and plugged it in," shared Chris. "From the moment the first sparks jumped, I was hooked. There was something about harnessing that power that thrilled me. Now I craft large-scale, one-of-a-kind, iconic sculptures for private collectors, schools, universities, restaurants, public spaces and corporate headquarters in my rural Essex studio."
Putting their creativity to work in other ways, the Artisans will provide light appetizers and bring back the signature "Pink Punch" during the Friday evening portion of the event. They will also host a special series of "door prize" drawings for a series of $25 gift certificates that can be used throughout the holiday season.   Everyone that walks into the show will receive one ticket automatically, more will be given out with purchases from any of the artisans.
Keeping in mind the vast array of gift-giving opportunities, here are some of the items being presented at the show to meet your holiday shopping needs.
Ceramics will be represented by Cynthia Curtis, Anni Melancon, Twin Lights Studio, and Ruth Worrall. From Cynthia Curtis's pottery studio, you will find items ranging from small "stocking stuffers" to large art pieces. Smaller items include ceramic ornaments with beach glass melted into the shell imprint (stars, lobsters, angels, trees, hearts, dragonflies, lighthouses, sailboats), shell dishes that can be used for a spoon rest or soap dish, mugs and tea bag holders. Larger items include Berry Bowls, Casserole Dishes, Platters, Lamps, Vases, and even gift certificates for pottery classes for aspiring artisans.
From Anni Melançon you will find work in both porcelain and toasty brown stoneware clay, glazed with the colors in nature: sky and water blues, greens, creams and whites with specks in both satin and shiny surfaces; iron transformed into elegant red and sable, iridescent black.   Anni will show functional pots for the kitchen and table: mugs, bowls, baking-ware such as chicken-cookers that can be filled with herbs and marinades to infuse the meat while roasting. Serving pieces include: platters, trays and bowls to give your cuisine the presentation it deserves. Anni adds, "Cooks love the countertop cylinders for cooking spoons and tools, especially space-saving oval shapes." She will also have new lamps and vases to decorate your home or that of a special recipient.
Jewelry and Hair Accessories will be on display from Jacqueline Ganim-DeFalco.   She will show her Cape Ann Designs collection made from authentic sea glass and pottery – perfectly suited to be worn year round with all parts of your wardrobe. These include hair clips (barrettes) in all sizes for all types of hair, hair forks, combs, alligator clips, bobby pins, and hair sticks. For anyone seeking hair jewelry, the selection provides something for everyone and items that are generally very difficult to find. Other great jewelry gift items include a range of brooches, in particular the popular convertible pin/pendant, earrings – many styles and lengths – post and wires, cuff bracelets, and pendants – also eye glass holders and sweater guards
Textiles will be on display from Camilla MacFadyen and Sara Wright, weaver. Camilla will share seaweed colograph printed infinity scarves made from rayon and silk, hand dyed and printed silk capes, and rayon shawls. And on the smaller side, colorful silk screened cotton flour sack tea towels and veggie bags, printed field bags and tiny purses. Sara will provide knit-wear and home décor items.
Mosaics and Sculpture will be on display from Pam Stratton and Chris Williams.   Pam will show mixed media mosaics, mosaic greeting card stocking stuffers, and glass mosaic Christmas ornaments, and Gift Certificates for Mosaic classes. Chris Williams will show small animal metal and glass sculptures and offers many interesting residential pieces that can be ordered on a custom basis. These include: Dog Memorials, Garden Accents, Weathervanes, Fireplace Screens, Railings, Gates, Cauldrons of Fire and Mailboxes.
Details:
December 2nd 4-9PM, December 3rd 10-5 PM
Admission is free; light refreshments & signature Pink Punch
Special Door Prize Event: Drawing ticket given at the door for gift certificates – to be held on Saturday at 5PM
Rockport Art Association, 12 Main Street, Rockport, MA. (Handicap Accessible)
For further information contact Pam Stratton, Cape Ann Artisans President pamstratton@verizon.net or 978-546-7582.