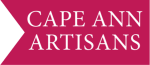 August 30, 2017
Inquiries: info@capeannartisans.com
Art is in the Air on Cape Ann:
Cape Ann Artisans Invite You to Our 34th Fall Open Studio Tour
Columbus Day Weekend, October 7, 8, 9 daily from 10 am to 5 pm
The Cape Ann Artisans Studio Tour is a beautiful fall ride to the studios of twenty-two juried artisans in Rockport and Gloucester. The self-guided Studio Tour route meanders through Cape Ann with studios interspersed with frequent glimpses of the ocean framed by the fall foliage. Both Gloucester and Rockport are known for art and culture. Gloucester boasts two Massachusetts Designated Cultural Districts: Rocky Neck, and Harbortown. Rockport itself is designated as a Cultural District. In 2017, American Craft Week named Gloucester as one of "America's Top 10 Towns for Craft Lovers."
Twenty studios (with twenty-two artists) will be open for you to visit to see how artists in varied disciplines use their creativity, tools and techniques to craft new works. This is work done by hand, in an inspirational landscape. You may find yourself stirred to return to or begin your own exploration of art-making. Several of our artists offer classes and workshops, including pottery and mosaics.   Read more about each artisan on www.capeannartisans.com where you can also sign up for the email reminders about the tour and download the brochure.
You'll have the opportunity to view – and purchase, if you like – the newest and most innovative art works these artists have created.   What is even more interesting is that, while you'll see beautiful designs and objects, you'll find out the story behind the art: the tools and traditions that craftspeople have used for centuries. The crafts range from textiles to pottery, mosaics to jewelry, sculpture to painting.
Whether you choose to visit for a day or for a weekend, you can find delightful inns, fabulous restaurants and many performing arts to take in, from the Cape Ann Cinema with overstuffed chairs, popcorn and wine, to the stage play "To Kill A Mockingbird" at the Gloucester Stage theater, opening October 6.
Look forward to the Cape Ann Artisans Holiday Fair at the Rockport Art Association, Friday December 1 and Saturday December 2 with select CAA Juried Members, along with Rockport Art Associations' Exhibition Openings.
The full group of 2017 Artisans are:
1. David Archibald
2. Cynthia Curtis
3. Rob Diebboll
4. Jacqueline Ganim-DeFalco
5. Deborah Gonet
6. Elizabeth Harty
7. Camilla MacFadyen
8. Anni Melançon
9. Sinikka Nogelo
10. Bond Street Studio: Terry DelPercio-Piemonte & David Piemonte
11. Marcie Rae
12. Margaret Rack
13. Mi Robertson
14. Pam Stratton
15. Bart Stuyf
16. Twin Lights Studio: Erin O'Sullivan and Scott Place
17. Mary Ann de Buy Wenniger
18. Beth Williams
19. Ruth Worrall*
20. Sara Wright
*Note for 2017 Ruth Worrall will be hosted at Bart Stuyf's studio
Here's a re-cap:
What: The Cape Ann Artisans open studio, self-guided tour of 20 studios
Where: Gloucester and Rockport, MA.
When: October 7, 8, 9  All Days: 10-5
Click here for additional images
Additional Information
Bart Stuyf, a highly renowned Gloucester sculptor who works primarily in copper, was recently featured in a North Shore Magazine article highlighting both his work at his studio and at the Pingree School's 8th Flying Horse Outdoor Sculpture Exhibit beginning September 3, 2017.
Pam Stratton, President of the Cape Ann Artisans, won an award for Artistic Distinction in the New England Mosaic Society Member Exhibition, currently on exhibit at the Cultural Center of Cape Cod in south Yarmouth from September 20 – October 8th.
Jacqueline Ganim-DeFalco is an artist of many talents, not the least of which is her chairmanship of the biennial Celebrate Wearable Art runway show on October 1, 2017 at Cruiseport Gloucester, will show her sea glass jewelry and accessories at the Open Tour.
Marcie Rae, a jeweler and metal sculptor, will be demonstrating the ancient art of chasing and repousse on silver jewelry and small wall art. Marcie Rae's work also includes silver jewelry, colorful hand linked jewelry, and several necklaces with large coral and agate druzy beads.
Rob Diebboll comments about his plein air painting at Cape Hedge Beach and Long Beach in Rockport:  "when painting on location I am responding to the light and weather conditions as well as whoever has shown up at the beach.  This always affords the discovery of something new."
Cynthia Curtis writes in her blog, Story Telling: "My new "story" of work includes a vast array of Sea Fossil pieces. I'm transforming 25 pounds of clay into a large platter, imprinting it with all my beach treasures into a large platter."
Margaret Rack's visit to Cambodia deeply influenced her, in particular a leisurely boat ride down the Tonle Sap River passing floating villages. Fragility, strength, resilience – – her small metal sculptures include wire, crocheted wire and other materials and metal in evocative 2D and 3D forms.
For further information, the Cape Ann Artisans website at www.capeannartisans.com features, under "News", From the Studio blog entries from various artisans, as well as individual bios and images of work under the "Artisans" section.